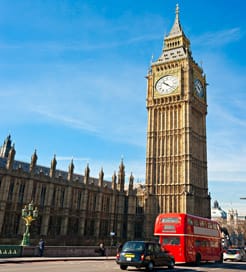 Ako rezervovať trajekt z Anglicko do Isle of Wight
K dispozícii je veľké množstvo plavieb z Anglicko do Isle of Wight. Trajekty momentálne spájajú 5 prístavov v Anglicko s 4 prístavov v Isle of Wight.

Je tu 102 plavieb trajektom každý deň plavieb na 5 Trasy trajektov trasách, ktoré sú prevádzkované 3 trajektové spoločnosti spoločnosťami ako sú Red Funnel, Wightlink & Hovertravel s dobou plavby najmenej 10 minút (Southsea do Ryde).

Toto je všeobecný prehľad výhodných ponúk medzi Anglicko a Isle of Wight, pre aktuálne informácie použite Vyhľadávač cien.
Mapa trajektovej trasy Anglicko - Isle of Wight
Kliknite sem pre zobrazenie mapy
Trajekty z Anglicko do Isle of Wight